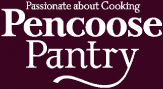 Cooked for you at your table -
we are still taking bookings for when covid restrictions allow us to resume this service
A great way of having a lunch party, dinner party or special celebration - let us do the work, whilst you enjoying being the hosts.
Using locally reared meat; line caught fish and Cornish lobsters; fresh vegetables from Cusgarne Organic Farm; Roskilly's and Rodda's dairy products, as well as our own free-range Marron eggs. William can prepare anything of your choice.
We can provide inspiration and help plan your party, making it a wonderful occasion for your friends and family. Over the last few years we have had the pleasure of creating fabulous dinners for special birthdays, ruby and golden wedding anniversaries, as well as making holidays in Cornwall special. Please contact us to discuss your perfect menu. In the meantime here are a few ideas….....
£40 per person for 8 guests and over, or £48 per person for 5 - 7 guests
All the menus below include homemade bread and pre-dinner nibbles of the chefs' choice
Please note that for 6 guests and over we will provide a waitress at an extra cost
We are happy to cater for a range of diets, allergies and/or intolerances
Waitresses can be provided at approximately £50 each, dependant upon timings.
We require a completed booking form and booking deposit for this service.

Copyright 2010 © Pencoose Pantry